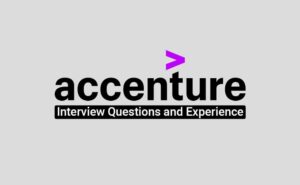 The interviewer joined (30min late) asked me, how long were you waiting?
Answered: from the past 30min sir, for the job at Accenture is my dream job aspiring from my BTech.
Interviewer: Ok, let's start the interview; I'm XXXX working at Accenture for 10years.Tell me about yourself now.
Me: My name is xxx, studied at xxx in dept of ECE, aiming to join IT industry, my hobbies are cooking, playing badminton
Interviewer: Now tell what technical topics you have prepared for the interview
Me: I prepared C, basics of Oops concepts, Python and data structures, etc.
Interviewer: As you already prepared, I won't ask them, now tell what kind of academic projects you worked on?
Me: I worked on three projects, did an Iot controlled robot, worked on hybrid cryptography for data security, finally, in my major project, we designed a web portal for the court management system.
Interviewer: Seeing all you have worked on Ece projects, why do you want to come to the IT side?
Me: Ece was my branch, so exploring it later developed an interest in software that is ruling the digital era. Also, my last project is website designing which is a software project.
Interviewer: What is your role in the project? What tools, language you have used
Me: explained
Interviewer: What was your feedback on your project by your faculty or hod? What improvements do you want to make to your project?
Me: Explained the feedback
Interviewer: How you managed your lockdown time on improving your skills?
Me: I took online courses on udemy, Coursera regarding my project, and solved hacker rank challenges.
Interviewer: U told your hobbies are cooking, badminton, who is your role model in badminton and explain a recipe u learned (So please be careful while putting them, do not put reading books they may ask it)
Me: Pv Sindhu is my inspiration; I explained a recipe
Interviewer: where do you see urself in the next five years?
Me: in a senior position with improved skill and package
Thanks for sharing it Jahnavi!