The diagram below shows how electricity is produced in a nuclear power station. Summarize the information by selecting and reporting the main features.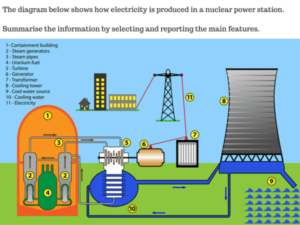 The diagram depicts the process of power production in a nuclear station. Overall, the method includes eleven different stages, starting from a containment, ending at the tower, and the cooling system at the final stages.
To begin with, in the containment section, two Steam generators transform the nuclear fuel into Steam tubes for processing. Later on, they are passed into the generator in which the electricity is produced, and once the power gets readied, it is sent to the Transformers, and finally, it reaches the houses, buildings, and so on. On the other hand, there's an outside cooling water tower which pulls the water from the source, and these both are connected to the Turbine via pipes to stop the excess emission of heat.
Note: This is a sample answer which explains an idea to write the content from the given diagram.