Secure Job You Want: After an impressive round of interviews, finally, you have secured a job and are now earning! But after getting the job, how can you keep it and progress toward your career goals, especially in today's competitive era?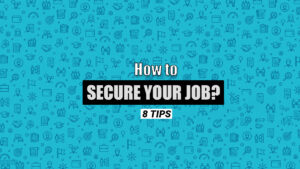 If you're looking for job security in your current position, there are several ways to guide and help yourself. The more effort you put into your career, the more likely you will stay for a more extended period. Being the individual whose approach and contribution to the team and employer exceeds their expectations is the secret to being prosperous and secure in a career. Here's how you can do it.
Reasons to keep your job secure:
It's advisable to stay at your current employer unless you're ready to move on from it and have another opportunity waiting for you. However, you must make the best option possible. Before you decide whether or not to leave your current employment, consider the following arguments for staying with your current employer:
Provides financial stability

Secures your health benefits

Can avoid a stressful job search

Don't have to rebuild workplace relationships

Encounter a leadership change
How to keep a job
You may do various things to support the cause if you're looking for job security in your current position. The more work you put into keeping your employment, the more likely you will stay for a more extended period. Here are some strategies to help you keep your job:
1. Consider if you can make any positive improvements
If you want to keep your job, think about what you can do to make you feel better about it. You can, for example, request a transfer to a different department or a different shift. Any change, great or small, has the potential to persuade you to stay.
2. Get along with your coworkers.
It's critical to get along with all of your coworkers and bosses as an employee. Offer to assist your coworkers as much as possible and treat everyone with respect. This improves your ability to function as part of a team and increase your general enjoyment at work.
3. Be irreplaceable
Make sure your employer won't be able to replace you readily. Work on developing abilities and become the go-to person for everyone when problems emerge. This demonstrates that you can handle your tasks and go above and beyond what is expected of you.
4. Give the best of your ability.
While it's OK to take a break now and again, stay focused on your primary duties as an employee. When it comes to layoffs, your business will usually keep the most productive staff and those who continue to surpass expectations. As a result, it's critical to keep on schedule and complete all of your tasks on time.
5. Be punctual
Arrive on time every day to show your dedication to your career and consideration for the firm and your teammates. Avoid taking an excessively long lunch or break. Being on time allows you to get right to work and may help you build stronger ties with your coworkers.
6. Maintain a good attendance record
Avoid taking too many sick days because this will signal your employer that you aren't committed to your job. If you need to miss work, let your boss know ahead of time.
7. Offer your assistance
Consider volunteering to take on a new responsibility or offering your assistance to boost your job security. This benefits your organisation, but it also allows you to gain new skills and advance professionally.
8. Add valuable contributions
Make sure you're making concrete contributions that your boss can see or track as an employee. You may, for example, assist them in reducing costs or increasing revenues by a specific amount. 
Other ways include:
Be flexible

Have a positive attitude

Ask to be cross-trained

Further your education

Keep your skills current

Be an active participant

Ask for feedback

Come up with solutions

Follow company policies
These are the 10+ ways to secure a Job that you want. Apart from these if you any other ways then do let us know via the comment section below.
UP Next: